Play in the gaps
Play is Ubiquitous.
When I was growing up, play used to be a very integral part of our life. Going to school was mandatory. But once you returned, just hurriedly dropping our school bags, running downstairs in the society – to indulge in play where climbing trees, playing chor police , nagol( a game where 7 stones are kept one on top of the other and we have to hit with the ball to make it fall down and the team which can again put the stones above each other without getting out being hit by the ball), stapu, etc. used to keep us busy with no time for TV or any other event. Going to the nearby A.I.Radio station, which had lush forest, to pluck Gulmohar flowers, on a sly , as there was that big moustached chowkidar always on our prowl, used to be an adventure we all used to look forward to. The rules were always laid by the teams as per the level of play intended. Informal game of Badminton also happened and was the only game with set rules and boundaries. It kept us happy and educated in terms of building friendships, bonding, sharing, discipline, team spirit and management which I am sure the best of education also can never impart.
It is a multi-faceted phenomenon with a variety of types that appear in all strata of society.
Aristotle (384-322 BC) emphasized the value of play and physical activities for overall development of the child. Roman Thinker (35 – 97 AD) Quintilian recommended the use of play as the earliest form of instructions. Historians (Weidman, 1989; Golden 1993) have found play to be the characteristic feature of childhood (source: Dr.David-Whitebread's Importance of Play)
Play can be Kinetic, Dynamic, Energising, Holistic, evolving, Educational, Entrepreneurship, Stimulation to brains, Healthy, emotional and social development and remedial.
Public Garden is being used as a place of multiple interactions like group study, games, workshops, etc
Photographs by: Author
Playgrounds play an essential role in the social, emotional, cognitive, and physical well-being of children right from the stage of early childhood. It is a natural tool for children to develop resiliency as they learn to cooperate, overcome challenges, and negotiate with others. Play also allows children to be creative. It Provides stimulation to the brains, nurture social skills and context. It helps in staying healthy and building emotional and social wellbeing. It Brings out linguistic and representational abilities along with self-regulatory abilities.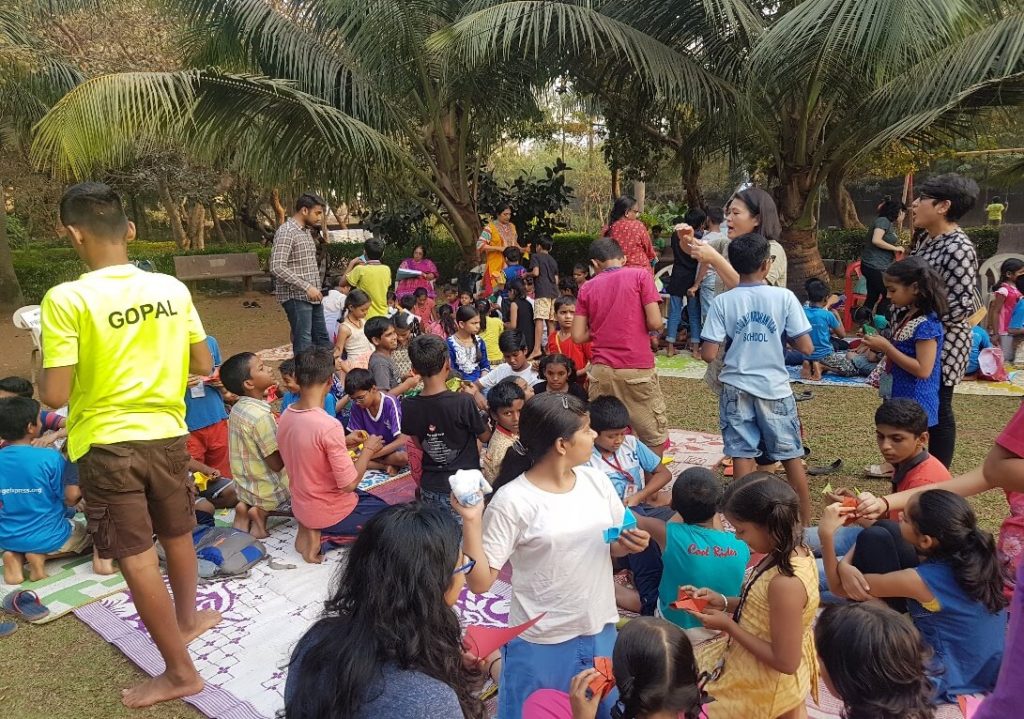 Playgrounds also provide variety for children during their day. Younger children have much shorter attention spans and sitting down indoors for long periods will affect their ability to concentrate. Allowing them breaks to go and have fun will keep their minds active and give them a chance to refresh their memories before going back.
Children from Gazhdhar Bandh Slums using Public park for playing games
Photographs by: Author
There are various Types of play such as Physical play, Play with objects, Symbolic play (Language, Music) Pretence/socio dramatic play and Games with rules.
Lack of play can Lead to neurological development related abnormalities. Play is an important and integral part of development in the organised sector. So what happens to it in the in organised settlements?
Fast paced urbanization, urban planning and management instruments such as zoning, and urban expansion zones, is a recurring phenomenon which drives the cities toward an uncertain, haphazard and chaotic future. (source: Urban Sprawl and the Challenges for Urban Planning Maurício Polidoro1,2, José Augusto de Lollo3, Mirian Vizintim Fernandes Barros4)
Cities have always been regarded as the Focal point of human communication, the place of possibilities and opportunity in terms of economic or political development (Graham and Marvin 1996). Calhoun (1986: 341) argues that one of the most important social characteristics of cities is the provision of public spaces in which relative strangers can interact and observe each other, debate and learn politically, and grow psychologically from diverse contacts.
Informal settlements, slums and other poor residential neighbourhoods are a global urban phenomenon in these cities. They exist in urban contexts all over the world, in various forms and typologies, dimensions, locations and by a range of names (squatter settlements, favelas, poblaciones, shacks, barrios bajos, bidonvilles). While urban informality is more present in cities of the south east, housing informality and substandard living conditions can also be found in developed countries. (source: https://www.unhabitat.org/wp-content/uploads/2015/04/Habitat-III-Issue-Paper-22_Informal-Settlements.pdf)
Large informal settlements and slums just happen due to range of interrelated factors including population growth, rural urban migration to the city for better employment opportunities, lack of affordable housing availability and corrupt governance (particularly in the areas of policy, planning, land and urban management resulting in land speculation and grabbing), economic vulnerability etc.
The informal settlements somewhere house the population which acts as backbone needed to keep the megacities functional and they contribute to a large part of economic prosperity of the city due to availability of cheap labour housed in these settlements.
In cities like Mumbai, availability of affordable housing is on the outskirt for which a person needs to travel almost 2 to 4 hrs, sometimes more per day to reach their work place. So a person in order to save the stress of multiple hours of travelling in crowded trains, opts to stay in these informal settlements which provides a bedding and some basic amenities which most of the times is at the cost of unhealthy surroundings. Slowly the extended family too moves in and thus these informal settlements become the alternative residential areas which have mixed use of small enterprises like garage, workshops, ironing, etc. along with other activities – dwellings, shopping, working, schooling, worshipping and recreating.
On conducting a survey of the residents of Gazhdhar Bandh Slums at Santacruz west-Mumbai and Malvani slums at Malad west-Mumbai, it was found that the women were happy staying here inspite of difficulties faced in terms of lack of attached toilets and basic infrastructure, as they felt a strong feeling of community, interdependence and availability of good education for their children which their villages lacked. So in-spite of them all having a house back in their Native villages, they preferred to stay in these affordable informal neighbourhoods. They felt safe for themselves and also allowing their children from playing outside.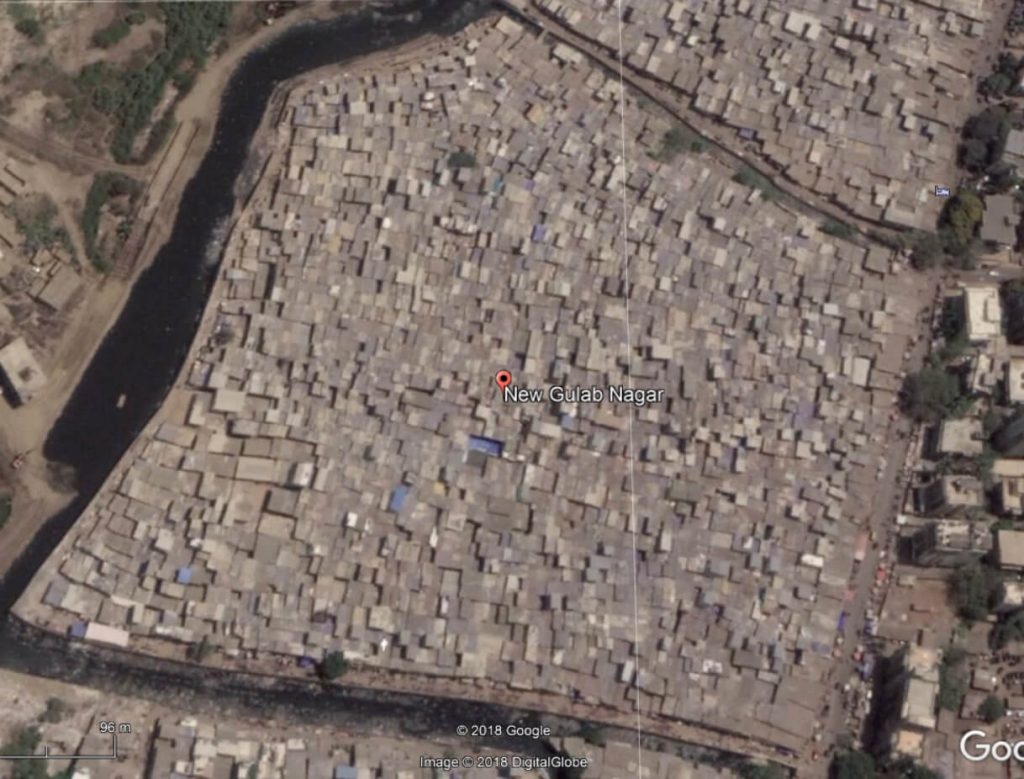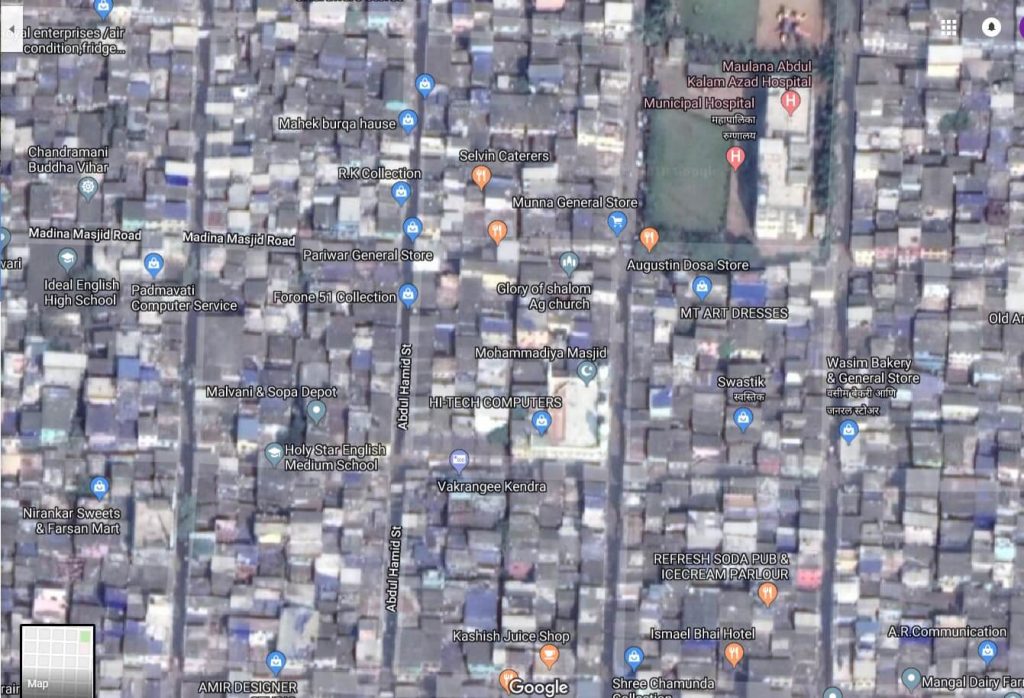 These so called "informal Neighbourhood" are characterized as the region where growth is disordered and unplanned, and where the lack of infrastructure and the socio environmental differences are alarming. Ironically These informal settlements are self-planned, organically growing neighbourhoods having a strong centre and an edge without any intervention of urban planners. (Source: M.Gottdiener & Leslie Budd-Pricnipless of Ideal Neighbourhood Desigmn)
Such mix use settlements are mostly lively and safe. There exists the socio-spatial networks which provides new arrivals - of immigrants to the Urban region with access to jobs and other personnel assistance.
Nodes become places of Interaction and resting.
Photographs by: Vishal at Shivajinagar Slum in Santacruz west
These settlements, are vibrant and thriving in their so called gaps which allow some light and ventilation and also lot of social interaction
On the other side, At the city planning level, GAPS can also be defined as the spaces that are often neglected and Unplanned. Such places can be found mainly at the edges of transport routes, canals, roads or at the edge of new development or empty plots, or Nestled between occupied spaces and buildings. Spaces that once had a definite function but now may exist as empty spaces- defunct spaces.
Areas around loading and unloading of trucks, Cart hawkers, Unused sheds, Place under big shaded trees or Bridges, Backyards, Installations can also turn to the kind of unformed spaces.
Such gaps can turn to spaces which are prone to Crime, Illegal activities, Encroachment by dopers, which may turn Unsafe for women, children, pedestrians, senior citizens, Etc. if they are left the way they are.
The difference between the two is that as compared to the informal self-contained settlement where there is a strong community feeling exists, the above mentioned gaps are unsafe for the city.
The so called informal settlements evolve in a way that some gaps are maintained to let in light and ventilation, which may act as gathering spaces and places to facilitate movement. These gaps are in the form of chowks, streets, temple angan, which also allows the sun to penetrate inside thus making it habitable. These then become the nodal points of some interaction.
Chowks and offsets become places to get some sunlight and also places of multiple interatcions
Photographs: Malvani Slums, By Author
They facilitate a link among people, facilities, communication and interaction, thus serving to bind together the social order of local community by creating a locus for randomize social interaction, including recreation, conservation and entertainment.
The offsets become places of discussions and mass gathering in the evenings and also Place of vending their wares
Photographs by: Author at Malvani Slums
Small commercial establishments like Butcher shop, Hardware stores, Kirana (Grocery) stores, Tea stalls, Small cafes, Ironing shops, Cycle repair shops, Small electric gadget repair shops, RECYCLERS, CLINICS, DAILY VENDORS also become places of community interactions.
Such open Spaces in the slums are Multifunctional, Multipurpose Versatile use of space, Flexible, Multicultural for Multiple age group resulting in Multiple human encounters. This So called self-created public open spaces also act as collective spaces which lead to collective behaviour and a collective voice, places of cultural expression. These public spaces act as a CATALYST for slum upgradation by becoming the drivers of economic development and wealth creation for the city'.
Commercial activites happen simultaneously
Photographs by: Author at Malvani Slums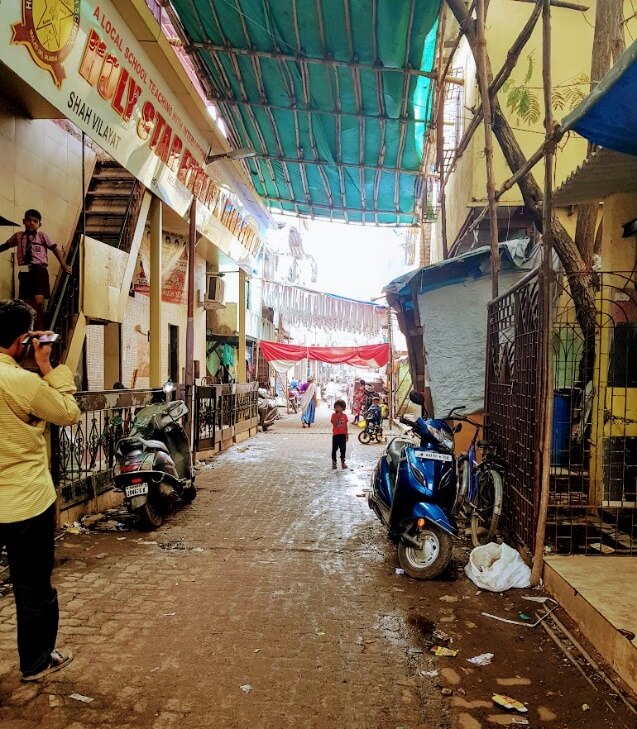 As there is no scope of a structured play areas in such a development, these gaps become important places for various activities amongst which play is also an important as well as social need for the community to exist.
The need of open spaces is acutely felt in such settlements as Development of life skills like participation and team work, self-awareness, Empathy, Problem solving, Interpersonal relationships, Leadership and taking responsibility happens along with Increased citizen involvement resulting in Physical activity through active recreation, leading to Social and personnel well being.
Mainly Two types of recreational activities take place in such open public spaces
Active types such as sports, jogging, cycling and 2) Non active types such as resting, Conversation, watching sports, Playing board games, Sewing/stitching.
The Main Stakeholders of these social spaces are the Children, women, Elderly and the people who are differently abled.
Mainly the Unstructured type of play happens which is the activities created by children with no adult guidance. They are often more diverse with imagination and creative play which also fosters language and collaborative skills.
Streets/gullies become daytime playgrounds filled with energetic children inventing new toys and games. Not only do the kids fly kites, but also cheekily pluck jamuns or mangoes from trees and spend hours playing with their own little clay and wooden innovations along with games amounting to more than 20 to 30 types. To name a few are raja rani wazir, kheecham kheecha, baraf pani, son pari, maram pitti, chunni wala, langdi, Lock and Key, Dog in the Bone,kho kho, pakda pakdi, goti and kanchi.
Kids at play
Various types of self made plays
This same play disappears when these residents of the informal settlements are stacked one above the other in terms of slum rehabilitation schemes. The land which they are allotted is almost one third, making way for development of sale components on the two third. The small play which used to happen in the gaps disappear due to multi-storeyed development where there are dark corridors and a total disconnect with the ground "realities".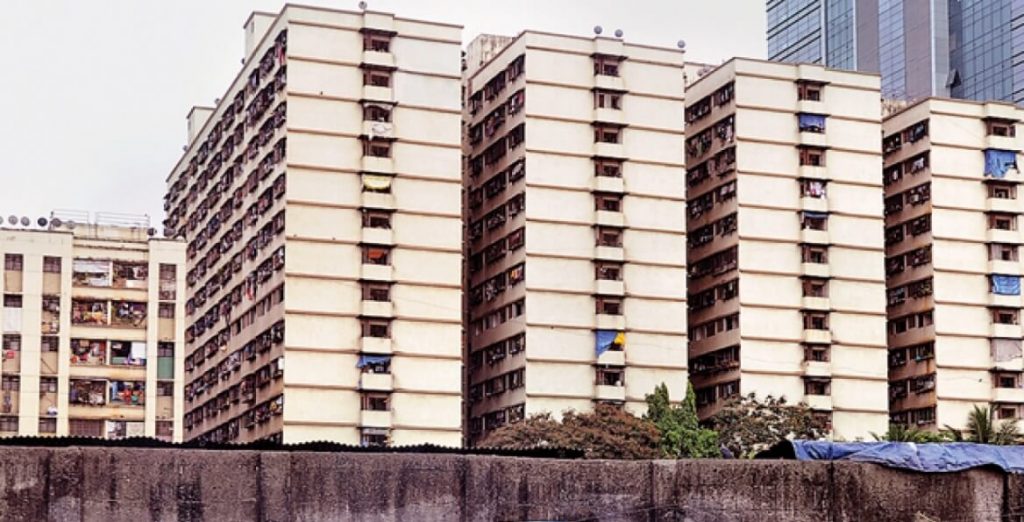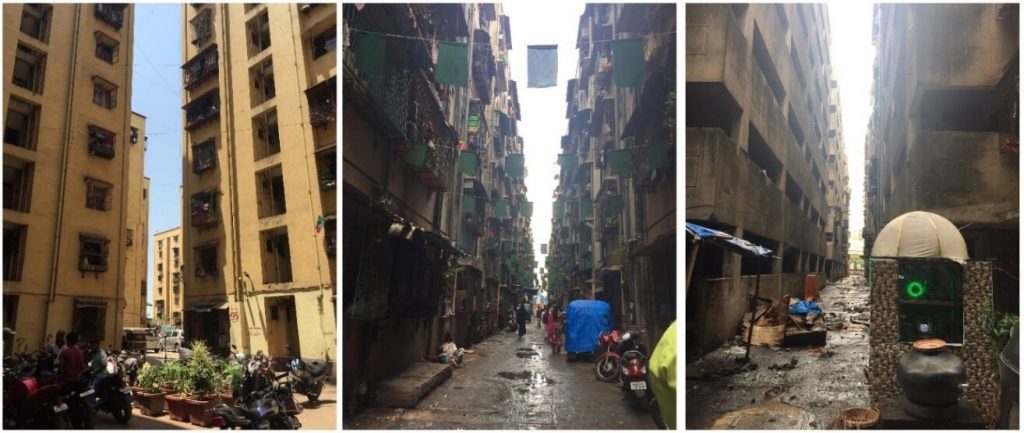 Planners determine the space between two buildings according to the city's Development Control Rules (DCR), which are different for regular buildings and those built under an SRA scheme. So while the distance between two privately constructed buildings of the same height is equal to a third of the height, SRA buildings can get away with just three meters in between them.
Conservation architect Abha Narain Lambah said urban planners do not consider that high density towers are not the solutions. "The vertical slums leave a psychological impact on the inhabitants. Developed countries have rejected this model years ago. These houses offer no privacy."(http://www.dnaindia.com/mumbai/report-vertical-slums-bring-plethora-of-woes-for-mumbai-2095367)
Many of those who have been shifted to these concrete tenements are starting to realise that life can be worse. People have lost their old jobs because their new homes are farther from their places of work. There are no schools or medical facilities nearby and, worse, the building themselves are bad for health. A new study has found that poor access to natural ventilation and sunlight and dearth of space has resulted in an abnormally high incidence of tuberculosis (TB) among the residents of these complexes. Overall, it establishes a strong correlation between mortality due to TB and housing conditions. (Source:Report by Ronita Bardhan from IIT Bombay's Centre for Urban Science Engineering)
To summarize, it is important to understand the need and right of every human being which lays stress on the right to good and healthy living conditions in our Indian constitution. A child's right is the access to the play areas for his better growth and he/she blossoms due to abundant play on the outside rather than a digital play which we all are noticing, which is very exclusive and isolating. In spite of lack of play grounds in the organic settlements a very important element of play happens which keeps these settlements lively and throbbing with life. Rather than developing 100 more smart cities, the focus can be at giving a more dignified living to already migrated people living in these slums, in already existing metro cities, by providing a more humane settlement through sustainable and better planned low cost Housing schemes in order to arrive at the promise of Housing for all by 2022, by the government as against these dead and disease ridden multi-storeyed slum redevelopment schemes.
A garden or a play area is beautiful and lively only because of the presence of the children and its vice versa.